Allan Geske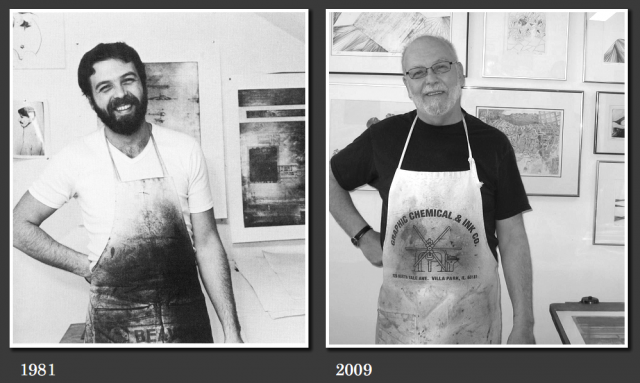 Allan Geske has been a printmaker since the mid-1970s and he employs various techniques in his art such as etching, engraving, relief and mixed media. His images often include the prairie landscape: maps, charts and blueprints that locate our place in the world and language that integrates the letters, words, symbols and markings of the draughtsman, poet and educator.
Geske has traveled extensively and his prints are metaphors that create disparate associations relating to his sense of home and place of origin.
From the catalogue of a recent show at the University of Winnipeg:
"Master printmaker Allan Geske uses techniques such as etching and engraving to call up the sepia-toned maps and charts of 19th century travel and exploration. These rational ways of representing the world -- carefully laid-out and geometric -- combined with poetic approaches, to unexpected effect. Works such as Atlas Vignette and Prairie Orbs seem to picture a world both familiar and far away." -- Alison Gillmor, 2007
William Pura, professor of printmaking and painting at the School of Art, University of Manitoba, has said:
"Allan Geske is a master printmaker, co-founder and current coordinator of North Nassau Printmakers located in Winnipeg's Artspace building. Geske has explored many aspects of printmaking but is best known for his engravings on copper -- intricate, complex and provocative images that at times evoke the landscape, but also stand as breathtaking abstractions formed by the unique line that only the engraving technique can make. His work often incorporates prairie images paired with replications of global charts or maps as well as letters, words and iconic symbols."